Schools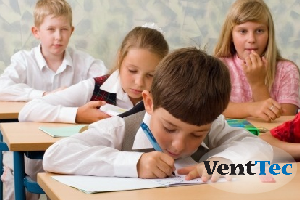 Indoor air quality is important in schools, libraries and other public buildings dedicated to education. Parents should insist that their children's school has their HVAC system inspected on a regular basis to maximize students' learning potential. Duct cleaning is a necessary part of providing a clean learning environment.
All school ventilation systems should be regularly and properly cleaned and maintained to ensure that they are kept clean and free from anything which may contaminate the air. A regular cleaning program will ensure that the air duct systems of your school heating, ventilation and air conditioning systems will provide clean, fresh air to the benefit of the students, teachers and support staff.
A regular air duct cleaning program will also increase the life and the efficiency of your school's air handling system.
Air Duct Cleaning Service for Schools
VentTec uses a range of specialized air duct cleaning and extraction devices. We use air jets and brushes designed specifically for the purpose of cleaning your school's air ducts. We remove the dust, dirt and debris from your ducts. Additionally, we can disinfect where necessary during the air duct cleaning process.
An air duct system is generally cleaned in the direction of the airflow. Therefore, the air duct supply system is cleaned right through from the fresh air intakes to the supply diffusers. Conversely, the return extract is cleaned from the extract grills through to the mixing chamber or discharge.
VentTec does an inspection of the air duct system before we start any cleaning. If we find that the existing air duct systems has insufficient access points to enable effective duct cleaning then we can also install access doors throughout the system. You can be sure of a proper thorough inspection and cleaning.
Contact VentTec
If you have any questions or would like to talk with us about cleaning your school air handling system then give us a call at (888) 316-0233.
You may also e-mail us at: rpayne@venttec.com
We also invite you to use our handy online form.