Condo Associations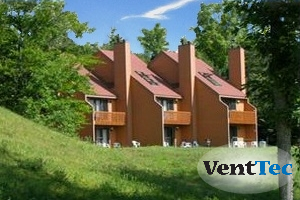 If you live in a condo community where many common items are arranged by your condo association then cleaning of the air ducts or dryer vents would most likely fall into this category.
If you condo association has a large number units then there may be an opportunity for your association to save a significant amount of money by allowing the association to purchase the duct and dryer vent cleaning for all units. This will save the individual condo or town house owner a significant amount off the standard single unit rate.
Duct Cleaning for Condo Associations
VentTec can come to your location and survey and appraise your needs. We can quote on duct cleaning or dryer vent cleaning or both. The size of your association will be a factor in gaining the lowest cost per unit cleaned but rest assured the unit owner and the condo association as a whole will save money. We can also coordinate our work with your property manager. We will do the duct cleaning or dryer vent cleaning in a convenient way to minimize costs to the occupants.
To clean the air ducts we use special air operated tools and brushes designed specifically for the purpose of cleaning air ducts. We remove the dust, dirt and debris from your ducts.  Additionally, we can provide solutions for better fitration, air treatment and odor treatment.
VentTec does an inspection of the air duct system before we start any cleaning and if we find that existing air duct systems has insufficient access points to enable effective duct cleaning then we can also install access doors throughout the system. You can be sure of a proper thorough inspection and cleaning.
Contact VentTec
If you have any questions or would like to talk with us about cleaning your condominium units' air handling system or dryer vents then give us a call at (888) 316-0233.
You may also e-mail us at: rpayne@venttec.com
You may also use our handy online form.