About VentTec – Air Duct Cleaning Credentials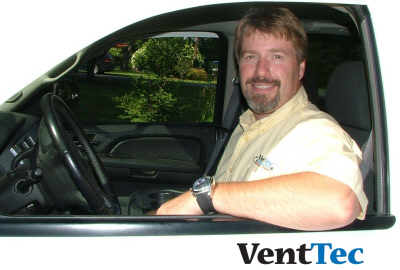 Russ Payne is the owner of VentTec and has been providing energy saving solutions to indoor air pollution for 20 years. He understands the issues associated with HVAC systems and how to properly clean HVAC systems. He has the distinction of being the  first person in Vermont back in 1996 to obtain the Air Systems Cleaning Specialist (ASCS) Certification through the National Air Duct Cleaners Association (NADCA).
Russ Payne is also a Certified Ventilation Inspector (CVI). He has been certified by the National Air Duct Cleaners Association.
Knowledge & Experience Makes The Difference
VentTec has knowledgeable and experienced staff providing top notch HVAC system inspection, maintenance and restoration services throughout Vermont, New Hampshire and the surrounding areas. We have over 50 years of combined experience in providing value-added services to schools, colleges, health centers, manufacturers, municipalities, fitness centers, small businesses and homeowners. The satisfaction of our customers is our top priority.
We Guarantee your satisfaction!
What We Do
VentTec provides an array of valued added professional products and services that will help extend the life of your HVAC equipment, optimize your system's performance, improve indoor air quality and comfort levels and reduce energy use.
Air Duct Cleaning
Dryer Vent Cleaning
HVAC Duct Joint Sealing
HVAC System Inspection
Air & Odor Treatment
Photos & Reports